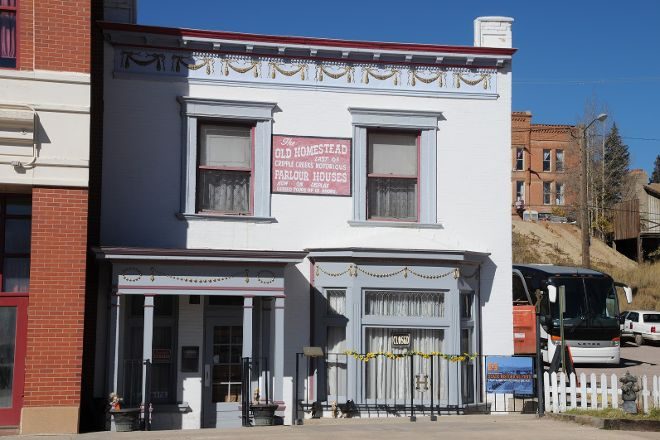 353 Myers Ave, Cripple Creek, CO 80813
353 Myers Avenue
Cripple Creek
Colorado
80813
US
 The Old Homestead was built in 1896 and was the most elegant brothel in Colorado's Cripple Creek District during its heyday. The house opened in 1958 as a museum and has been a favorite ever since with thousands of visitors from around the world every year.
Built by the famous madam Pearl DeVere to service the desires of the rich and powerful men of the Cripple Creek mining district during Colorado's Gold Rush, the Old Homestead offered the most beautiful women in the luxurious parlor house. Pearl built the house after the town was leveled by two fires, modeling it after the elite brothels of Paris and building it of brick so it could withstand another fire. 
And survive it has, for 119 years. The Old Homestead is the last original building left standing of the many infamous pleasure palaces on Cripple Creek's Meyers' Avenue. 
Today the ladies of the house are local women who keep the story of the Old West alive through the stories they share about the lives of the girls who worked in the brothel and of the gold miners who made Cripple Creek famous. The Musem is open June thru October with daily tours from 11:00 a.m. to 5:00 p.m.