18th Annual Paint the Town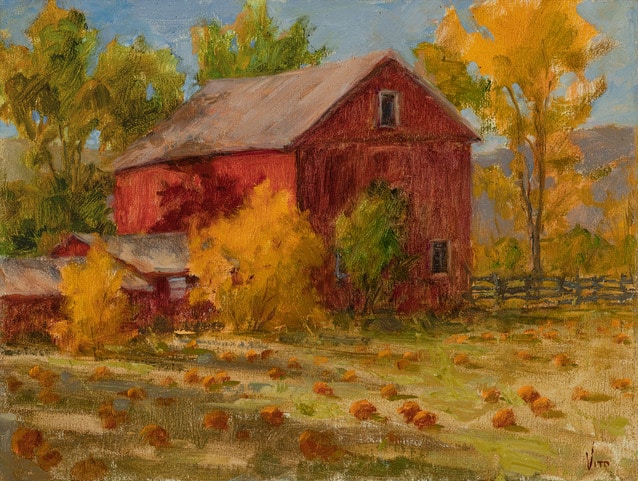 From October 11-17, 2021, plein air artists will gather from miles around Florence, Colorado (three states) to paint outdoors in the plain air.   The Florence Arts Council has presented this event for over 15 years.  This year there will be $4000 in prizes awarded to the winners among the 40 participating artists submitting paintings.
Artists will gather early on October 11 at the Bell Tower to register and receive a map of places for painting through October 15  which may include Lavender Farm, Colon Orchards or anywhere within the designated area.  On Friday, all artists are requested to paint on Main Street in downtown Florence.  The artists then frame their work (three pieces per artist are allowed) and present them for hanging by noon on Saturday.  But wait, we aren't finished yet…
For the courageous artists in the group, there is The Quick Draw on Saturday from 1 p.m. until 3 p.m. at a secret location disclosed at 12:30.  Finished work from this event is due back at the Bell Tower at 3:30 framed and ready to hang.  This event is judged by People's Choice.
The culmination of this awesome event is the exhibit, reception, judging, and sale of these paintings on October 17 at 5 p.m. at the Bell Tower Cultural Center. The exhibit/sale continues thru November 30.
This is not just a great time for meeting artists and seeing art being created, but it is a great time to purchase art.  The prices are always reasonable.  The stunning landscapes are hot off (and sometimes wet from) the artist's brush.
For information on participating or attending contact The Bell Tower @ 719-784-2038 or Facebook. com/belltowerculturalcenter or florenceartscouncil.com.
Registration is $50 per artist. (Early Bird is $ 40. Due by Sept. 30th)
Your registration gives you up to 4 entries to be judged and prize awards, 2 meals, entry into numerous painting locations.
Daily, you will paint in Florence & the special venues within the expanded boundaries including Phillips Ranch, The Royal Gorge Mansion, Colon Orchards, Canon City Lavender Farm, Florence Mountain Park and others.
A Quick-Draw Mystery Location will be held on Saturday after the painting intake deadline at 12 noon.