Alta Vista 5k on the Historic Trestles
October 9 @ 8:00 am

-

5:00 pm

$15 – $35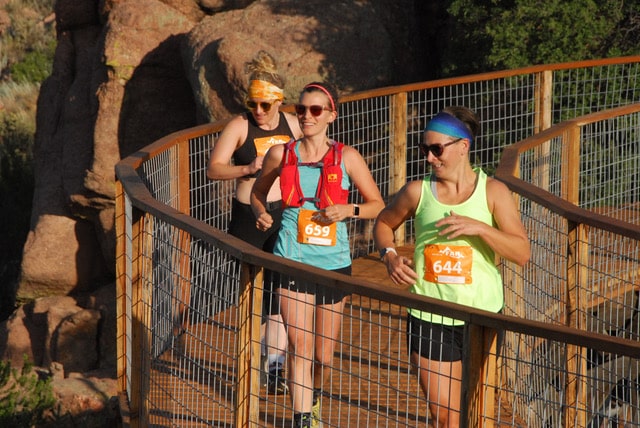 There's only one 5K in Colorado that offers its participants the opportunity to race across historic train trestles and peer into the iconic Royal Gorge – and it's right here in Fremont County. Fremont Adventure Recreation is proud to announce that the annual Point Alta Vista 5K Trail Race will happen on Saturday, October 9th, 2021. With just a few weeks left to register, FAR encourages runners, walkers, and joggers of all ages and ability levels to participate.
The course offers participants and spectators the opportunity to enjoy a beautiful morning at the Royal Gorge Ranch & Resort, a private property that provides access to beautiful views and the historic Gunslingers Lounge. "I don't' know of many other races that have a 'home base' as fun as this one – a historic building that was once part of an old west town," says organizer Ashlee Sack, Coordinator for FAR. "From the starting point, you'll run across the landscape that used to be part of the Buckskin Joe property, and to the rim of the Royal Gorge."
Point Alta Vista was once the terminus of the Royal Gorge Scenic Route mini-train, which was operated until 2012. The tourist attraction was shut down and the trestles left abandoned until the City of Cañon City pledged funds and efforts to re-deck and refurbish them. The trestles connect to the larger Royal Gorge Trail system on the 5,000-acre Royal Gorge Park land.
"We are excited to welcome runners, joggers, and walkers," says Sack. "This course is designed to be as unintimidating as possible while also offering some of the best scenery in Colorado…and the West." The wide trail and minimal (about 350 feet gain) grade change make this a great introductory trail race. FAR is committed to encouraging community members to participate in outdoor recreation events, and has hosted running an biking events since 2010.  As community member Doug Pohl said in a recent blog post on the joinFAR.org website, "That's why [FAR] hosts these great races—to provide us with opportunities to try new things, to enjoy our wonderful trails, and to share the experiences with others.
Cost to enter the race is just $35 per person and includes timing and a commemorative hat for the first 150 participants. Youth (18 and under) may enter for only $15. Packet pickup will be held at The Hive on Friday, October 8th, and also on Saturday morning from 8:00-8:45 a.m. The race starts at 9:00 am, with a special kids' race at 9:30 a.m.  A post-race celebration will be held at the Gunslinger's Lounge, and spectators are encouraged to come and enjoy the event as well.
Fremont Adventure Recreation is committed to fostering a culture of outdoor recreation in our community. For more information on their events, mission, and projects, please visit joinFAR.og.
Photos: Racers at the 2019 Point Alta Vista Trail race enjoy scenic views of the Arkansas River, the Royal Gorge, and the mountains.
The event location includes a start / finish at the historic Gunslingers Lounge at the Royal Gorge Ranch and Resort.
If you would like more information about this event, please contact Ashlee Sack at coordinator@joinFAR.org or at 719-248-6376.