First Friday Artist's Reception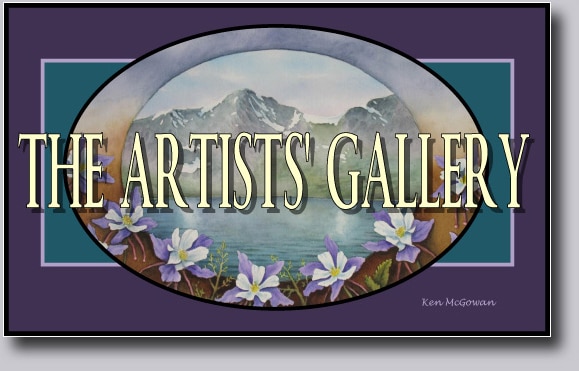 The Artists' Gallery, 416 Main St., Canon City, invites you to join us for our First Friday artist's reception on November 6th, from 5-8 p.m. Singer/songwriter, Lissa Henner, will be entertaining us live on acoustic guitar with original and classic folk favorites. Come meet our artists, enjoy a fun and safe socially distanced evening out, while supporting the arts in our community! The Featured Artists:
Tom Lockhart describes his love of painting Southwest landscapes as "an adventure in the American countryside." Working in oils, pastels, and watercolor, he recreates breathtaking images of rivers, streams, rural scenes, and dirt roads leading to parts unknown. Tom says, "I've always been attracted to color and the atmospheric effects of light within the landscape. These are key to a visually stimulating and interesting image." Over his 30-year career as an artist, Tom has earned numerous awards for his paintings, and in August was featured in a Southwest Art magazine article, "Colorado Creativity", as one of 11 iconic Colorado artists!
Multi-media artist, Diana Werthman, has always been gifted with creating the most beautiful things out of seemingly nothing. Diana's 3-dimensional artwork, using natural elements she discovers on walks, include beautifully hand-crafted pine needle baskets, stunning embellished gourd vessels, and lovely pine needle-trimmed shoulder bags. She is a talented watercolor artist, as well, rendering exquisite images of birds, horses, flora, and fauna. Diana also designs and decorates the gallery's wonderful window displays—she adds jokingly, "And, I do windows, too!"
Always with his camera at his side, award-winning photographer, Mel Williamson, records the world around him. While on exploratory excursions throughout Colorado, Wyoming, and Montana, he artfully captures the most spectacular images! He professionally mounts or frames his work using the latest techniques designed to further enhance the images. Over many years, Mel has had the good fortune to study under several well-known photographers; in return, he has taught digital photography classes, sharing his expertise and love for the medium with aspiring photographers.
We are pleased to announce that we have recently added new classroom space in the rear of the gallery! Some of our talented member artists are now offering art classes—acrylic and watercolor painting, jewelry-making techniques, Quilling Christmas ornaments, dimensional greeting card making, and more. Stop by the gallery to see the class schedule, the instructors, and sign up for a great experience! Hurry, as space is limited. The schedule can also be viewed on the gallery's Facebook page, www.facebook.com/TheArtistsGallery/.
The Artists' Gallery, 416 Main St., Canon City, is open daily from 10 a.m. to 6 p.m. For more information, call (719)345-4070.