First Friday Artist's Reception
September 4 @ 5:00 pm

-

8:00 pm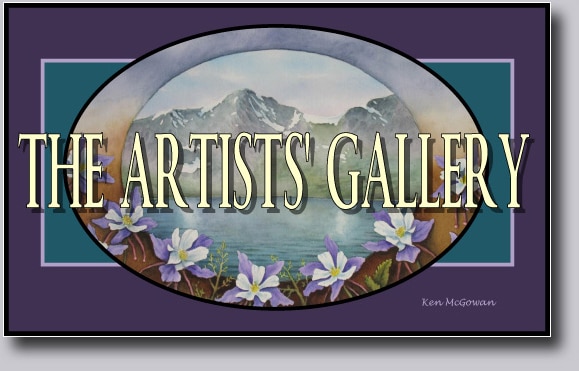 Summer's End First Friday Art Walk!
The Artists' Gallery, 416 Main Street in Canon City, invites the community and visitors to join us on September 4th for a summer's end First Friday artist's reception. Our doors will be open from 5-8 p.m. for a "social distancing" evening of art viewing and comradery! We are featuring the artwork of these three exceptionally talented member-artists throughout the month:
Merri Daley's marvelous paintings are inspired by nature, be it on-location field studies, hiking Colorado with her camera for reference, or exploring still life subjects. Mainly working with oil, using a palette knife, Merri has been exploring surface texture by incorporating cold wax into her medium, with remarkable results!
Multi-media artist, Haley Atkinson, will be displaying two of her favorite mediums—pen and ink "Tangle" drawings and Quilling. Tangle is often described as "intentional doodling"; taking a pattern and repeating it to create a beautiful mosaic of shapes. Haley says, "But Quilling, the art of paper filigree, has become my most recent passion. To me, it is the three-dimensional version of my Tangle art."
Painter, Katie Rosenquist, has been mixing it up! Painting subjects ranging from hyper-realistic to the realm of surreal, in her unique and vividly colored signature style. Katie expresses, "I love painting oddities and things out of the ordinary!" Her newest interest is painting pet portraits—rainbow/super colorful ones! She explains, "Dabbling in a little of everything helps me develop a well-rounded skill set, and I know that my artwork will continue to transform."
The State mandate during the COVID-19 pandemic requires all who enter the gallery to wear a protective face covering, and no refreshments will be served for the time being. The health and safety of our guests and artists is our primary concern!
The Artists' Gallery is open daily from 10 a.m. to 6 p.m. Recipient of the 2020 Reader's Choice Award for Favorite Art Gallery in Fremont Count, we offer quality original art and gift items! For more information call (719)345-4070 or visit: www.facebook.com/TheArtistsGallery/.