First Friday Artist's Reception
October 1 @ 5:00 pm

-

8:00 pm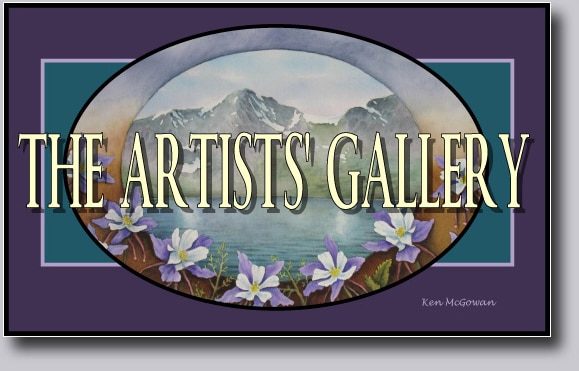 October "First Friday" at The Artists' Gallery!
F. Scott Fitzgerald wrote, "Life starts all over again when it gets crisp in the fall!" Welcome in the fall season on First Friday October 1st, with a stroll through Historic Downtown Canon City, dropping in at The Artists' Gallery, 416 Main St., from 5-8 p.m. Share an atmosphere of artistic creativity, stimulating conversation, community spirit, and live music! Featuring the artwork of these three member-artists throughout the month:
Well-known local artist, Pat Wiles, was dealt a double blow this past year when her home was razed by a fire—all her treasured paintings and art supplies were destroyed, too. Embraced by a supportive and loving community, she was lifted-up and restored. Donations of art supplies poured in, enabling her to resume painting amid the work of rebuilding her home and life. In her "spare" time, Pat created the winning entry for the annual Winery at Holy Cross Abbey Harvest Fest art contest—the second year in a row! Pat is displaying all new paintings she has created just since the fire, in a presentation titled, "Wild Things". Viewers will be dazzled with the images in her distinctive vibrant colors!
While hiking in the backcountry of Utah and Colorado, Ron White was captivated by some petroglyphs he witnessed on remote canyon walls. Studying the ancient art, he gathered inspiration for his own unique sandstone carvings. Having perfected his mineralization process for duplicating an aged "desert varnish" veneer onto natural sandstone, he skillfully hand-carves replicas of petroglyphs, as well as original wildlife and contemporary images, onto the prepared stone. No two pieces are ever the same. Ron's wife, Cathy, is instrumental in the process and together they operate their business, "Derived from Nature".
Bernice Barnes will feature wonderful watercolor paintings with the theme "Sentimental Thoughts", many illustrating female figures in serene places. Over many years, Bernice has participated in workshops with professional artists that have allowed her to develop multiple techniques in watercolor. Since her retirement 3 years ago, she has immersed herself in her passion, entering as many local art shows as she could and earning over 35 awards, including 3 Best of Show! Her joy in creating art is shared with a group of fellow artists who meet weekly to sketch together "en plein air".
After a summer hiatus, the gallery is resuming art classes beginning in October! Some of our amazing artists are offering instruction for their techniques in a variety of media, including watercolor painting, alcohol inks, gel printing, jewelry making, and quilling. Drop by the gallery or visit our Facebook page to see the current schedule. Space is limited, so sign up soon!
The Artists' Gallery, 416 Main St., Cañon City, is open daily from 10 a.m. to 6 p.m. For more information call (719)345-4070 and check out our Facebook page at www.facebook.com/TheArtistsGallery/.