Temple Canyon Park, just south of Cañon City, is a treasure for anyone looking to avoid crowds and explore a gorgeous, natural landscape.
The area has three campgrounds that are spread apart, so it's easy to feel secluded. Next to one of the campgrounds is a trailhead for Redemption Trail. Follow this trail down into the canyon where Grape Creek runs along the floor. In the spring, the canyon is rich with green trees and grasses and the creek is perfect for wading.
Follow the trail and you'll discover the "temple," after which the canyon is named. This rock alcove was formed by the continual seepage of water into small fissures or cracks in the rock and may have been used by the Ute Indian Tribe as a ceremony site.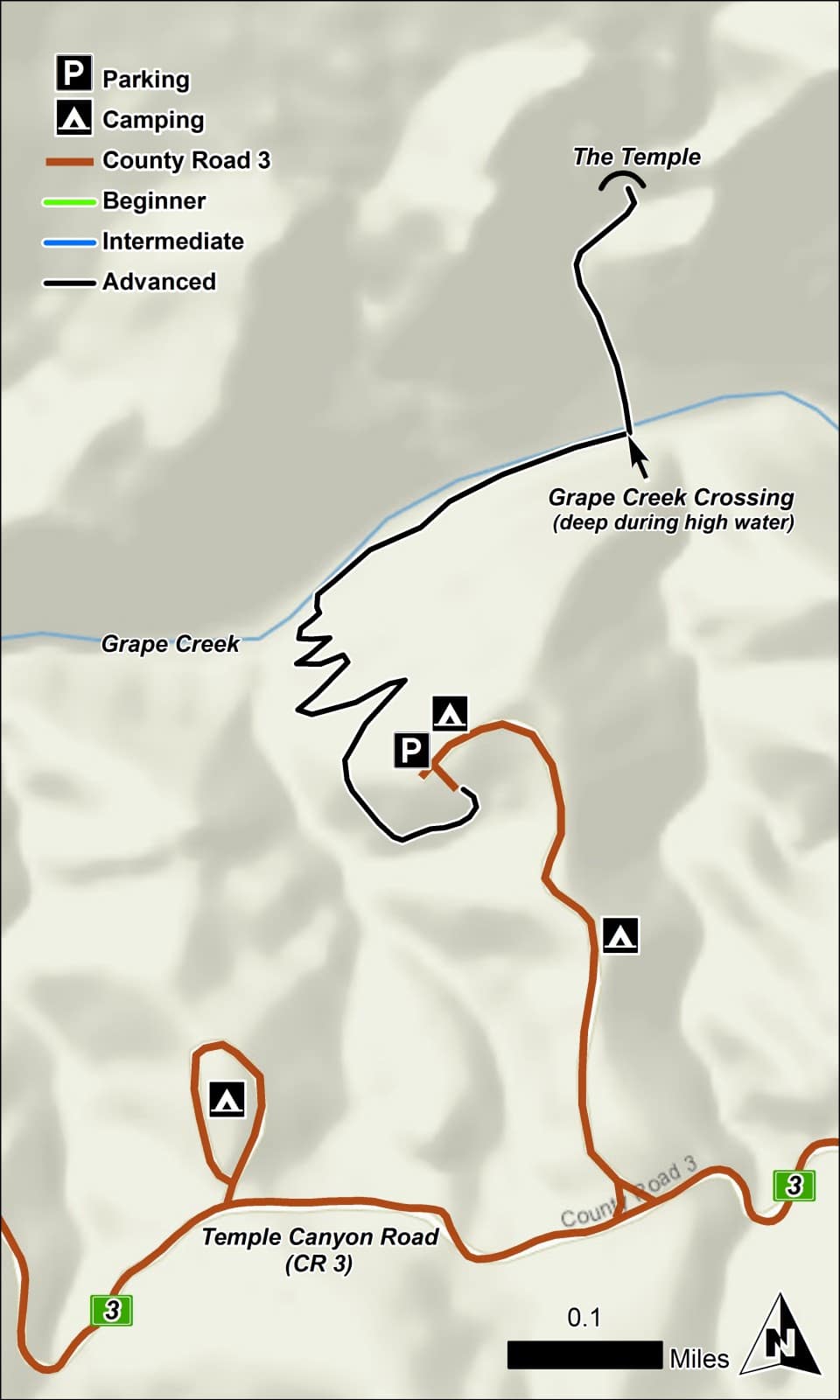 Start: Begin your hike at the parking lot off County Road 3.
Elevation gain: 300-foot descent from the parking lot to Grape Creek and a 50-foot ascent from the creek to the Temple
Fitness effort: Moderate to strenuous
Difficulty: Intermediate to advanced
Terrain: Steep switchbacks to flat creekside singletrack
Seasons: Best in early spring, summer, and fall
Dog friendly: While you are welcome to bring dogs on this trail, please be advised that there is a great deal of cactus and also the potential for snakes. Be cautious! Keep your dog on a leash, bring waste bags, and clean up after your pet.
Distance: .6 miles or 1.25 miles one-way (depending on which trailhead you use)
Note: The longer version of this trail is inadvisable during higher water flows as there are no bridges across the creek. Please check stream flows before attempting creek crossings. In late summer or early spring, flows are usually low enough to cross safely. Also, be aware of tall grass.
History of Temple Canyon Park
With so much mining activity in the Wet Mountain Valley in the 1870s, there was a desire to directly connect Canon City to the Rosita and Silver Cliff communities. The only logical route was along Grape Creek, which had been described as a "boisterous and treacherous" stream, one that had washed out wagon roads and later a railroad which ran from 1881-1885.  Grape Creek traverses wilderness on its path from Canon City to the Wet Mountain Valley, and the only road to cross it along this path is Temple Canyon Road.
During construction of Temple Canyon Road, workers noticed a natural amphitheater in the canyon. This amphitheater would come to be known as a temple and the area would become Temple Canyon. The canyon was a popular destination in the 1890s with residents traveling up Grape Creek by foot.
An act of Congress granted Temple Canyon to the City of Canon City in 1912.  The road, park, trails, lookout points, and recreational areas are the result of work conducted during the Great Depression by workers under the Works Progress Administration in the late 1930s.
Before riding trails, please check trail conditions at www.joinFAR.org/trails. Please observe right-of-way etiquette and yield to hikers and equestrian riders. Help keep the Royal Gorge Region trails beautiful by observing all stewardship principles, including packing out any waste or trash, staying on the trail, and avoiding all wildlife. Give back to local trails by visiting local businesses who participate in the '1% for Trails' program – see https://www.joinfar.org/1-for-trails.html for more information.
Temple Canyon Park is one of the most amazing places you will ever visit.  Keep it this way for generations to come and Leave No Trace–Care For Colorado!