The secret is out. The Royal Gorge Region is one of Colorado's premier camping destinations. With world-class outdoor recreation and campgrounds like Temple Canyon Park and The Bank near Shelf Road, people are flocking to play and stay in the Royal Gorge Region.
Still on the down-low, however, are camping options called glamping, which is defined as glamorous camping. This global trend has gained popularity among outdoor enthusiasts because there's no tent to pitch, no sleeping bag to unroll, and no trek to use the bathroom. It's a way to experience the great outdoors without sacrificing luxury.

There are many incredible opportunities for glamping in the Royal Gorge Region. A new, notable location is Royal Gorge Rafting's Colorado Rafting Tours | Royal Gorge Adventure Beach, which offers the next generation in luxury yurts and affordable vacation rentals overlooking the Arkansas River.
Wake up to the rush of the Arkansas River at your Riverside Yurt. Each Yurt is positioned to overlook the scenic brilliance of the Arkansas River. At 20′ in diameter with upper-level lofts, there is plenty of space to stretch out and relax. The riverside yurts offer your group well-furnished accommodations, adequately equipped with outdoor patios and uniquely styled outdoor kitchens each overlooking the Arkansas River.
Colorado Rafting Tours | Royal Gorge Adventure Beach provides the Royal Gorge Region's top-rated outdoor experiences all based from one location, featuring their wildly popular white water rafting & zipline packages with lunch included just 3 miles away at the laid back yet lively White Water Bar & Grill. When staying at the Royal Gorge, Adventure Beach puts you precisely at the center of the regions best adventures!
Colorado Rafting Tours | Royal Gorge Adventure Beach
provides an opportunity for private access to fly fishing, stand up paddle boarding, kayaking, hiking the scenic and wild Copper Gultch, rafting, zip lining and much more. For large groups, they can accommodate up to 72 people with the adjacent riverfront vacation rentals. Make the Royal Gorge region yours!
Royal Gorge Rafting also offers airstreams for a glamping stay.
The layouts are perfect for a family or group of 4 with two adults and two children at the bunk beds. These Airstream rentals feature a Queen bed at the camper's head, and a bunk bed at the cabin's aft side, and all the creature comforts laid out intelligently between.
Airstreams are the Classic Travel trailer that gives you dedicated cooking, dining, lounging, bathroom, and bedroom areas, each as comfortable as the last.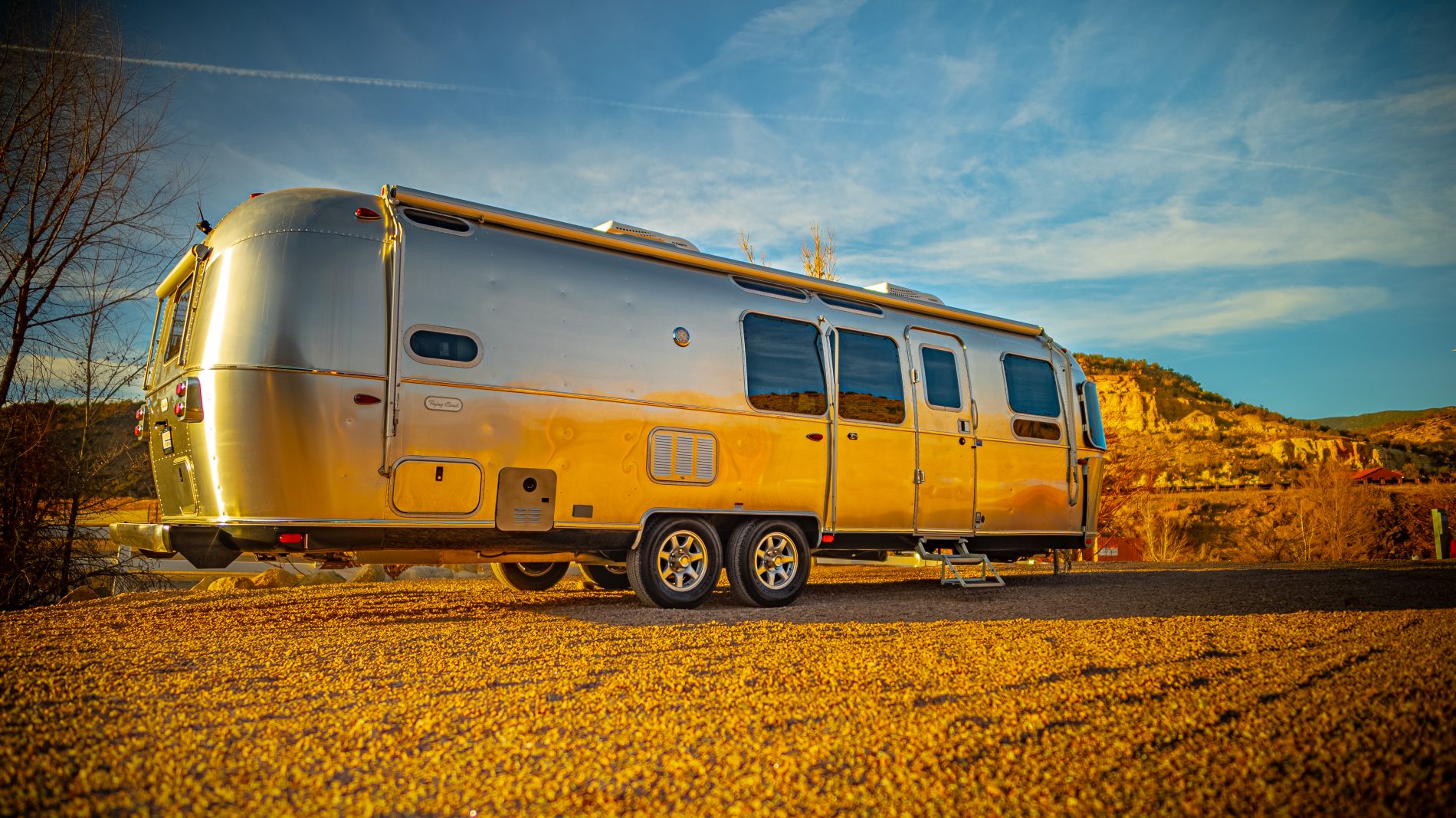 Echo Canyon River Expeditions in Cañon City also offers luxurious glamping options in addition to their raft adventures, popular riverside restaurant, RV campsites, and primitive, secluded tent sites.
Echo Canyon River Expeditions has two glamping options. For those seeking a home away from home, its rustic cabins are a great choice. 'Rustic' should be used loosely as theses cabins boast a modern design with amenities like central air, flat-screen TVs, Wi-Fi, and outdoor fireplaces.
Visitors wanting a greater connection with the outdoors should check out Echo Canyon's Glamping Tents. These fully equipped tents offer queen-sized beds, sofa sleepers, electricity, Wi-Fi, and a furnished, private deck. Most importantly, Echo Canyon stocks each glamping tent with a bag of ice to keep beverages cool because it knows the first thing you'll want to do is relax, put your feet up, and take in the Royal Gorge Region's amazing scenery.