Mountain bikers, hikers, and horseback riders prepare to be blown away by Oil Well Flats, a Fruita-like trail system that's just an hour's drive from Colorado Springs.
In this recreational trail system, located 6.5 miles north of Cañon City, 13 miles of trails interconnect, allowing for a whole day of adventure. Riders and hikers delight in spectacular views of the Royal Gorge, the Arkansas River, and the Sangre de Cristo Mountain Range. Deep within the trail system, other scenic features include a 200-foot cliff of pitted Slickrock, a shaded patch of woods, and an old burn area that's been transformed into a rolling prairie.
Oil Well Flats was established in 2013 in an effort to attract state and nationwide bikers seeking a convenient alternative to Fruita and to showcase Cañon City's other recreational areas, like Section 13 and Shelf Road. With excellent cross-country routes, challenging and technical obstacles, and singletrack that careens through stunning canyons, this popular biking area has done just that. Today, Oil Well Flats is consistently rated as one of the best biking areas in Colorado.
With varying degrees of difficulty, there are trails for novice and experienced riders. And because Cañon City sits in the middle of a banana belt—an area that experiences warmer weather than the rest of the region as a whole—biking here is a year-round activity.
Popular trails include:
Fracture
This is a flowy, novice trail that will delight experienced riders as well. Connecting with other intermediate trails within the system, beginning riders on Fracture could be encouraged to expand their biking skill-set with these nearby trails.
Island in the Sky (Clockwise)
Begin with some welcome shade in tall pine trees. The trail soon leads to an open meadow where you'll begin your ascent. Rocky across the top of the ridge, but you'll be rewarded with views of cliffs, Cañon City, and the snow-capped peaks of the Sangre de Cristo range.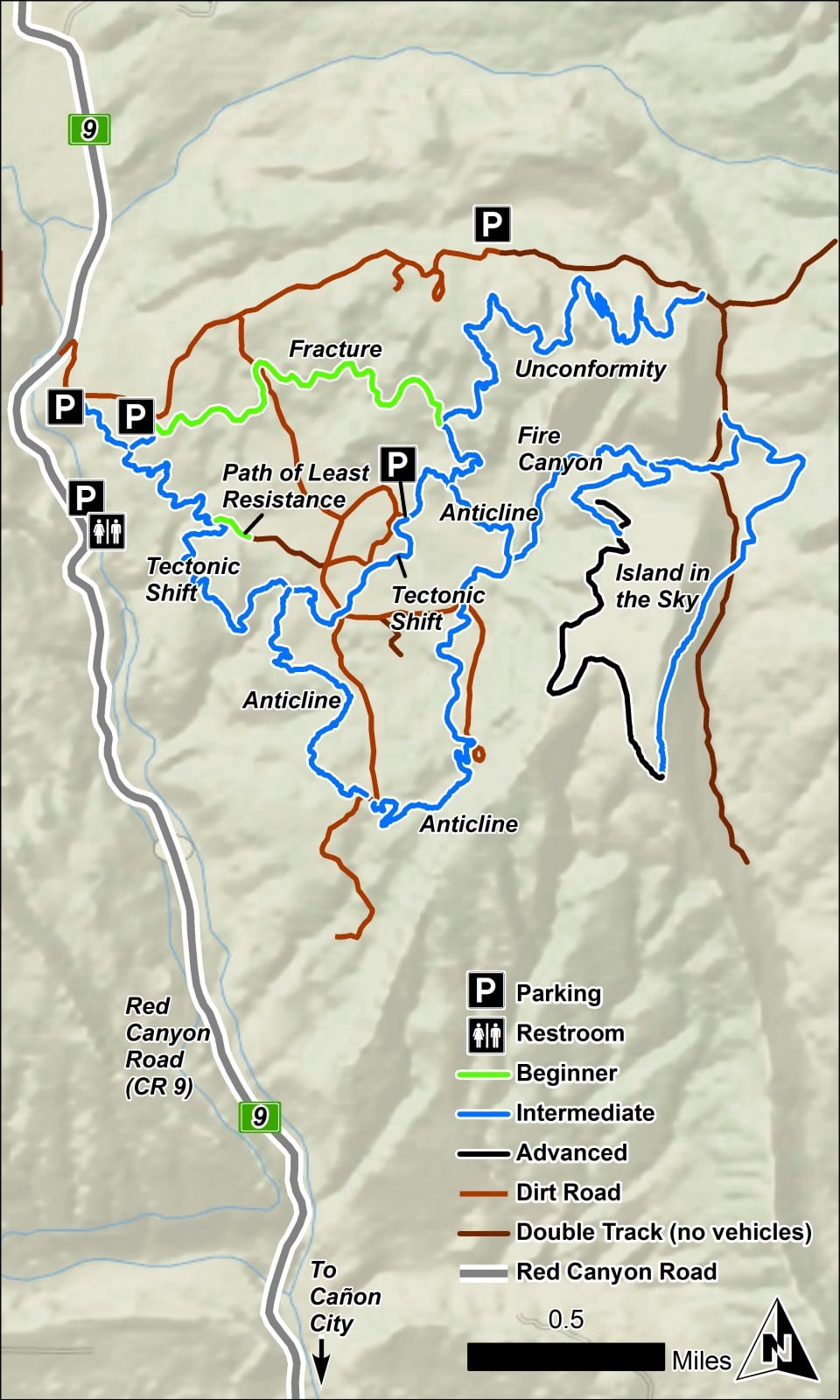 Start: Begin your ride at the first trailhead. Additional parking is available just 0.2 miles up the road.
Elevation gain: 800 feet from the first parking area to the high point - Island in the Sky
Fitness effort: Medium to strenuous
Difficulty: Novice to advanced
Terrain: Rocky; natural surface singletrack
Seasons: Best during spring and fall; rideable in winter when dry; summer will be hot
Trail users: Hikers, bikers, equestrians
Dog-friendly: Be courteous of others and keep your dog on a leash, bring waste bags, and clean up after your pet. Watch for both wildlife and cattle.
Distance: ~12 miles total for a round trip on the singletrack (double up or ride in reverse)
Note: Hikers tend to prefer the two upper parking lots to access the higher terrain, but the hiking is enjoyable wherever the trails take you! Horse trailer parking is available in the second lot.
Before riding trails, please check trail conditions at www.joinFAR.org/trails. Please observe right-of-way etiquette and yield to hikers and equestrian riders. Help keep the Royal Gorge Region trails beautiful by observing all stewardship principles, including packing out any waste or trash, staying on the trail, and avoiding all wildlife. Give back to local trails by visiting local businesses that participate in the '1% for Trails' program – see https://www.joinfar.org/1-for-trails.html for more information.