The Royal Gorge Region has several fantastic trail systems accessible year-round, including the famed Oil Well Flats, The Hogbacks Open Space, and the South Cañon Trails. And now, the Royal Gorge Region can add yet another trail system to that ever-growing list—the Royal Gorge Park Trails.
The 5,000-acre Royal Gorge Bridge and Park, managed by Cañon City, is home to one of the most beautiful and iconic natural wonders in the state. And now, it's easier than ever to get an up-close view thanks to the Royal Gorge Park Trails System.
Completed in 2018, the Royal Gorge Park Trails System traverses the gorge's rim and surrounding hills, giving hikers and mountain bikers over 17 miles of singletrack to explore and incredible views of the Sangre de Cristo Mountains and the Arkansas River as their backdrop.
The park's landscape is filled with rocky outcroppings that stand out from the panoramic horizon of the Sangre de Cristo mountains in the distance. Whether you're looking for a 15-mile ride or a quick three-mile hike, the Royal Gorge Park will keep you exploring.
If you're going to start anywhere, start your hiking or biking adventure on the classic Canyon Rim Trail, the first-ever built trail around the gorge. The Canyon Rim Trailhead is located on CR3A, and once on the trail, you'll catch views of the Royal Gorge, including unmatched views of the famed Royal Gorge Bridge. You may even see the Arkansas River winding its way through the 1,000-foot canyon.
Mountain bikers will discover the flowing, scenic qualities of the newest trails in the system as they venture off the Canyon Rim Trail and onto Dark Side of the Moon and The Maze. These popular trails offer berms, turns, and bumps that keep bikers of all abilities coming back for another round.
Popular trails include:
Point Alta Vista Trail: This one-mile (two miles out and back) trail is a wonderful option for those who would like a wide, relatively easy trail for hiking, walking, or mountain biking. Start at the parking lot just 1.25 miles off of Hwy 50 on CR3A (west of Cañon City). You'll find a map/kiosk/gate where you'll start your journey. Follow the trail to the refurbished trestles and come back the way you came. PLEASE remember to pick up all waste (including animal poo), and stay ON the trail as it is surrounded by private property. Additional mileage can be reached by tying into the singletrack (intermediate to advanced) east of the trestles. Consult an app or map for more instructions.
Canyon Rim Trail: With gorgeous views all along the Canyon Rim Trail, be sure to pack your camera! The trail provides a fun, intermediate trail experience with occasional steep exposure.
Overlook Loop/Elk Horn Picnic Area: For those with limited time, pick the trail up at the picnic area and enjoy panoramic views of the gorge and mountain ranges beyond. Please note that many points along this area have severe exposure and dropoffs. Hike with caution!
Dream Weaver: From the campground, catch this trail for a flowy, fun descent through the 2013 burn scar. Great views of the Sangre de Cristo mountains.
Made in the Shade: This 3.1-mile loop trail offers fantastic scenic views of rocky outcroppings, the mountains, and rugged canyons.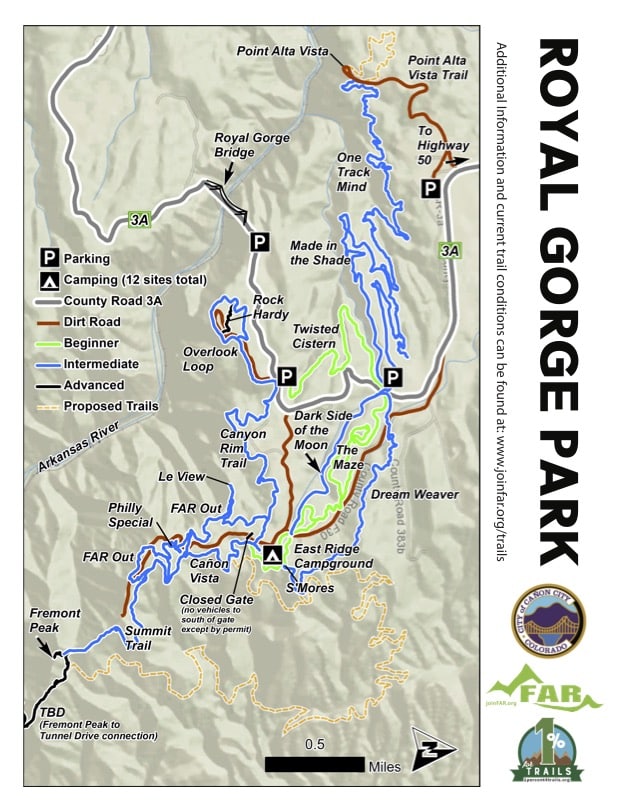 Start: Begin your ride/hike at one of several parking areas.
Elevation gain: +/- 600 feet
Fitness effort: Mild to moderate
Difficulty: Novice to intermediate
Terrain: Natural surface singletrack
Seasons: Best during spring, summer, and fall. Winter users should expect icy conditions.
Trail users: Hikers, bikers, walkers
Dog-friendly: Yes. Keep all dogs on a leash and watch for cacti along the trail. Please bring waste bags and clean up after your pet.
Distance: 15 miles. Reverse your loop for more distance and to enjoy views in both directions.
Before riding trails, please check trail conditions at www.joinFAR.org/trails. Please observe right-of-way etiquette and yield to hikers and equestrian riders. Help keep the Royal Gorge Region trails beautiful by observing all stewardship principles, including packing out any waste or trash, staying on the trail, and avoiding all wildlife. Give back to local trails by visiting local businesses who participate in the '1% for Trails' program – see http://www.joinfar.org/1-for-trails.html for more information.