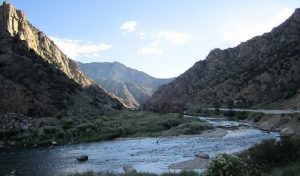 Welcome to the Climate Capital of Colorado!
To those whose October-through-June song is, "Oh, the weather outside is frightful…" outdoorsy types in the Royal Gorge region reply, "Not so much. In fact, it's beautiful here today!"
In fact, while other parts of the state are in the deep freeze of winter, Cañon City and its surrounding areas are often enjoying 40, 50, and even 60-degree days. At an elevation of 5,332 feet above sea level, Cañon City is slightly higher than the Mile High City of Denver. But tucked into the folds and bluffs of the Arkansas River Valley, the town enjoys a much milder climate than Denver. In fact, Cañon City boasts the nickname of "The Climate Capital of Colorado."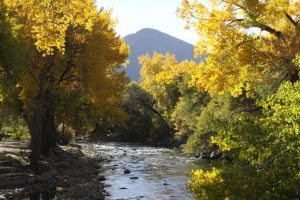 Yep. At the precise moment that powder hounds are carving first tracks on one of Colorado's black diamond runs (in frigid temps, of course), their equally enthusiastic technical climbing counterparts might very well be roping up for morning ascents at Shelf Road Climbing Area just north of Cañon City. And that's after camping out the night before!
Truly, Royal Gorge year-round outdoor recreation opportunities are limited only by one's imagination. Regardless of what the calendar might say, visitors can enjoy 18 holes of golf on multiple courses in the immediate vicinity or challenging mountain bike routes along the Gold Belt National Scenic Byway and through spectacular rock formations of Red Canyon Park. The Arkansas Riverwalk Trail is also an excellent choice for a leisurely pedal and is perfect for families.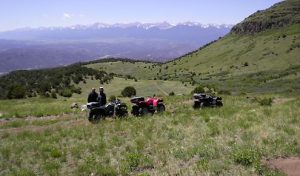 Fly fishers can wet their lines in the Arkansas River all year long and maybe even land that monster brown trout. Guide service is available and easy access is found along the Riverwalk.
The historic Royal Gorge Route Railroad has scenic rides that extend into winter months and include a magical trip to the North Pole on the Santa Express Train. Although reindeer are elusive, other wildlife such as bighorn sheep are frequently seen along the way.
Another year-round activity catching on in the Royal Gorge region is geocaching, a game of high-tech GPS hide and seek that takes participants to the outlying expanses of the area as well as to points inside town limits.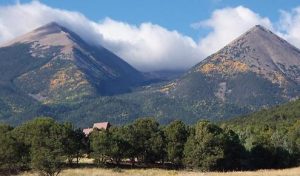 And we must not forget the year-round horseback rides, ATV and Jeep tours, zipline adventures, scenic drives, hikes, winery tours and tastings, and just strolling through the historic downtown areas of Fremont County.
William Bonfils, one of Colorado's earliest entrepreneurs, was fond of saying, "'Tis a privilege to live in Colorado." But in the Royal Gorge region, we are quick to add, "'Tis a downright blessing to be here any 'ol time of year!"
Royal Gorge Region Average Temperatures:
summer: 57° – 87°F
fall: 43° – 74°F
winter: 23° – 52°F
spring: 40° – 69°F
Save